Chicago Travel Tips for Families Traveling with Young Children
If you're planning a trip to the Windy City, you are likely looking for the best Chicago travel tips! You're in the right place. Chicago is one of America's busiest cities and has no shortage of opportunities for family fun. Its rich history and energetic pace make it one of America's most rewarding vacation destinations.
From experiencing one of the country's oldest zoos at Lincoln Park, to digging into a gargantuan deep dish pizza, or taking a peaceful pontoon ride on the Chicago River, there are endless options. We've got all the Chicago travel tips you need to have a fun filled, stress-free trip.
---
Airport Tips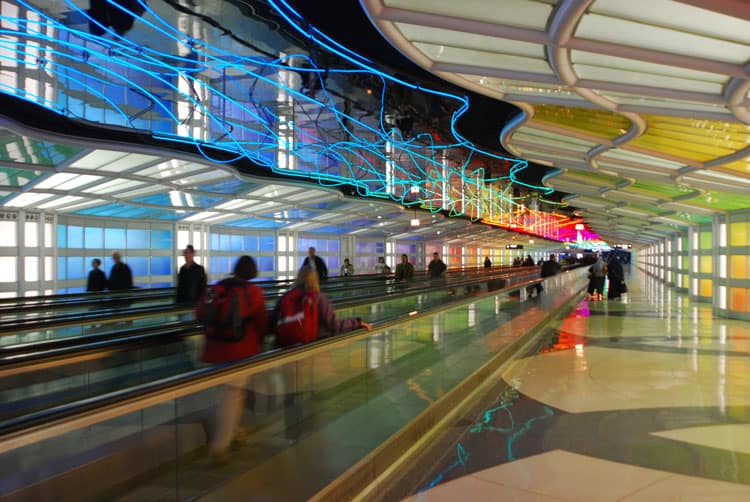 Chicago's O'Hare Airport is one of the country's biggest and most hectic. If you are flying in or out of O'Hare, be prepared for long lines. The airport itself is very large and can pose long walks from security to your gate. Make sure to arrive at least 2 hours prior to takeoff.
Luckily O'Hare is also equipped with an expansive children's play area. There are plenty of climbing structures where kiddos can burn of some steam before a long flight. Grab a coffee and a newspaper if you're early for your flight and relax while your children explore the jumbo jet toy structure and the mini helicopter next door.
You also won't want to miss the light sculpture over the automatic walk way. Children and adults are mesmerized by this amazing light show!
Keep your eye out for flight options out of Chicago's alternate hub, Midway Airport. It's a smaller airport than O'Hare and much easier to navigate.
---
Getting Around The Windy City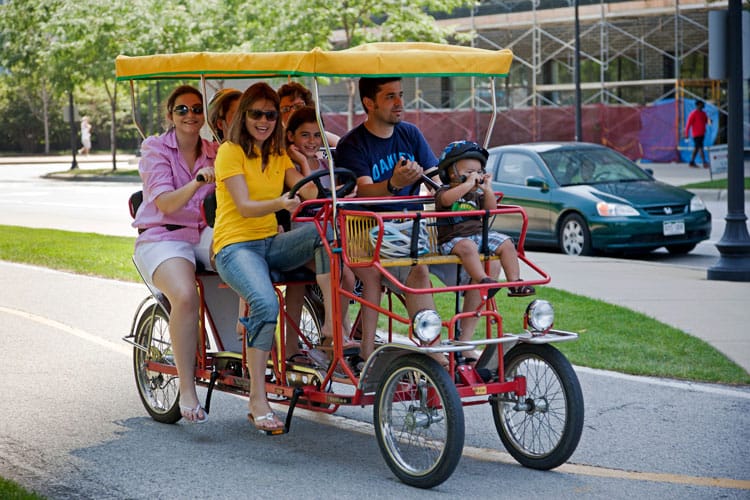 The city of Chicago is one of the country's most walkable cities. So make sure to equip your family with a high-quality stroller for your visit. One of the classic routes for those looking for a nice stroll is the Lakefront Trail on Lake Michigan. A quieter option is a visit to the Lincoln Park Conservatory where the plants are vivid and the air is fragrant.
A creative option for getting around town is the famous Chicago Water Taxi. Kids always get a kick out of a ride down the Chicago River and this boat ride lets you completely bypass the busy Chicago traffic. If you decide to rent a car, check out local parking apps like SpotHero or ParkWhiz, and definitely sign up for the ParkChicago app. It allows you to pay at metered spots and even reminds you when your meter is about to run out.
If you are looking for something super fun and unique, rent a quadcycle! The entire family can jump on one and pedal along the lakeshore.
---
Outdoors Adventures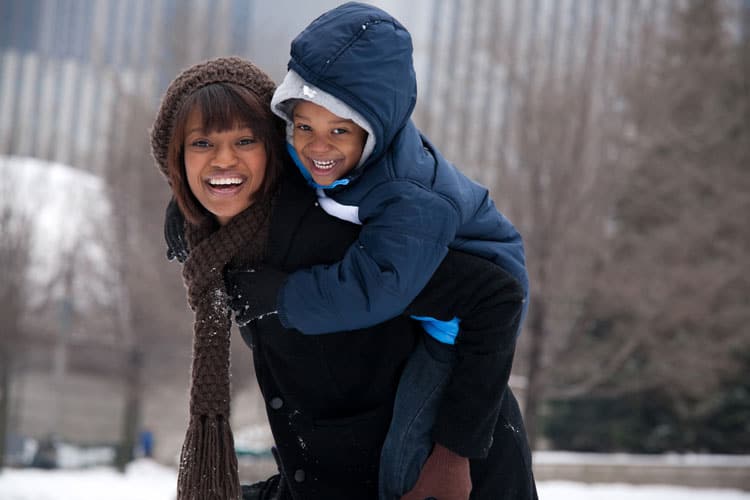 Chicago weather can be surprisingly diverse in winter months, but chances are there will be a cool breeze waiting outside your door. Prepare to dress warm, but don't think the lower temperatures will put a damper on your vacation. There are still lots of fun winter activities in this fantastic city, indeed some of its most popular. Regardless, if you're visiting Chicago in a more temperate season, make sure everyone brings along a sweater or light jacket. You never know what might blow through.
---
Related articles:
---
Good Local Eats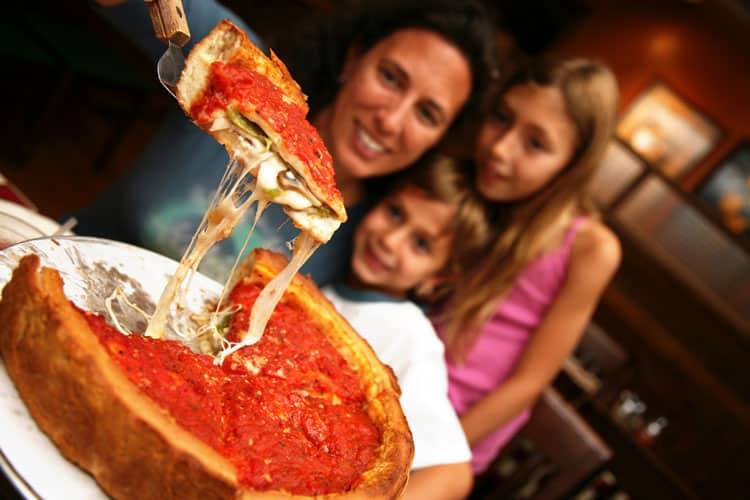 Any parent knows the key to a happy child is a happy stomach…filled with pizza! In Chi-Town, good restaurants fill up fast, so plan your dinners ahead and make reservations. You'll enjoy just walking in and sitting down. If you don't make reservations, plan on arriving early! This is seriously one of the most important Chicago travel tips ever. Hungry kids equal disaster!!
People usually want to try Chicago style pizza when they come to town, and when it comes to deep-dish, Lou Malnati's or Gino's are the heavyweights. Remember, those pies are deep and take a while to bake, like 40 minutes long. So either secure an earlier reservation time than you normally would, or plan on ordering appetizers to keep little tummies happy while you wait.
When it comes to breakfast food, Walker Brothers is a very affordable pancake house. They have several locations along Chicago's North Shore and a large menu that is sure to please everyone. Another great choice for families is Eleven City Diner. There are two locations, one in the loop and the other in Lincoln Park.
---
Excellent Water Activities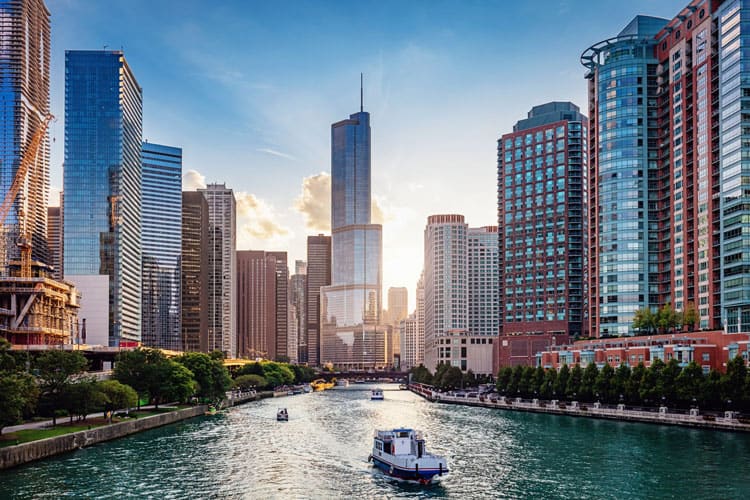 Chicago sits on beautiful, blue and clear Lake Michigan. In the summer grab a bathing suit and check out the beaches all along its north and south shores. Leave the beach toys at home and rent them for just a few dollars a day.
There are also boat tours galore! If you're family is the independent type, go for the pontoon rentals on the river. A great itinerary idea is to start with a cruise around the lake then continue down the Chicago River.
If you're visiting during late March, the city turns the river vivid green for Saint Patrick's and kids love it. During the summer there are firework shows every Wednesday and Saturday night on Navy Pier.
---
Must-Visit Attractions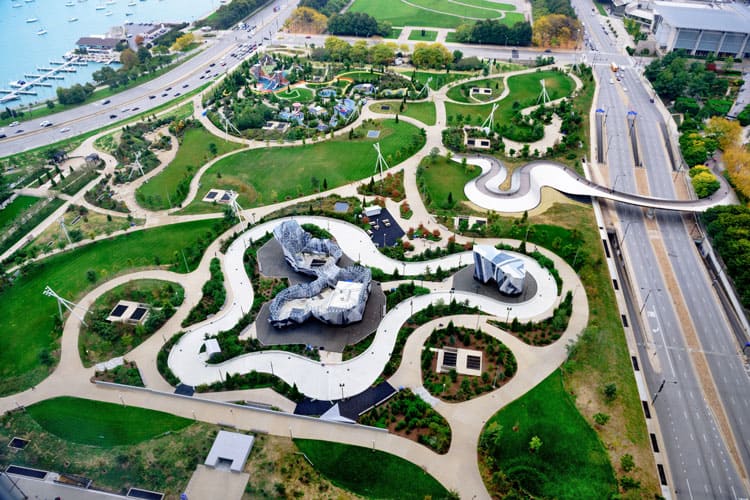 If you're a winter visitor make sure to visit Maggie Daley Park where you can skate the figure 8 skating ribbon. It's an ice rink that operates during the winter months. The park also has picnic groves all over. If you're up for a winter wonderland picnic, making snow angels, or want a good-natured snowball fight, this is the place to be.
Lambs Farm is a lovely petting zoo in the town of Libertyville, situated about 45 mins north of Chicago. The farm features all kinds of child-friendly activities such as a mini train, carousel, bounce house, creative climbing structures with slides, pony rides, and of course, animals! Plus there's a great cafe on site that donates all proceeds towards benefiting the developmentally disabled.
A sure-shot hit with the kids is Pirate's Cove Children's Theme Park. Unlike other attractions, Pirate's Cove was constructed exclusively with small children in mind, so adults get in for free. It features fun attractions like a carousel, bounce house, boat rides, interactive pirate-themed plays and craft areas. There is even a picnic area that allows families to bring in their own food.
---
Rent Baby Gear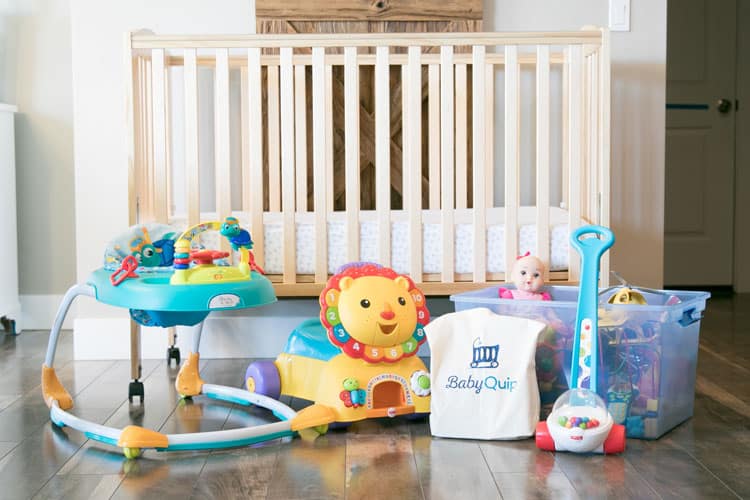 Chicago poses a challenging situation from airport to hotel room due to its daunting size and thick traffic. Renting baby gear will lighten your load and reduce luggage fees and time waiting in lines. Renting baby equipment is likely one of the Chicago travel tips you've never heard of. But…it's so much easier to pack light!
Many rental services even offer packages to make your stay feel more like home for infants. Things like baby toys, potty chairs, the exersaucer and even bottle warmers. For older siblings keep an eye out for step stools, travel cots, and fun books & big kid toys. The right gear can provide a family relaxation after a long day in the energetic hustle and bustle of Chicago.