Family-Friendly Food Tours Worth Tasting!
We think that one of the most important (and yummy!) parts of traveling is experiencing the local cuisine. There's no better way to explore your vacation destination than walking throughout the city and eating! Also, you still have to feed your children while you're on vacation (we know, responsibilities, ugh!), so why not make it a fun experience?
One of the best ways to taste the local foods and cuisines is by going on a food tour. Yep! You heard it! A tour completely dedicated to food. We've curated a list of family-friendly food tours throughout the US that you and your kiddos will love. So put your walking shoes on, bring a stroller or front pack (or rent it, hint hint) and arrive hungry! (PS – our list is West to East Coast, so if you're looking for a particular city, scroll down! Don't see a family-friendly food tour in the city you're traveling to? If you find one, share it in the comments!
---
Los Angeles: Melting Pot Tours
LA is like New York rolled out onto a cookie sheet. It's a fusion of cultures, foods, and flavors. Like any major city, farmers markets are abundant. In fact, Melting Pot Tours literally has a food tour dedicated to the original farmers market in LA! This is their most kid-friendly tour as it doesn't require as much walking and is stroller friendly. You'll be enjoying fresh foods, vegetables, and fruits from an LA staple that's been around since 1934. Make sure to pack a water bottle and some sunscreen (it is sunny California after all!). Oh! Keep an eye out for celebrities – the market is known for celebrity sightings!
---
San Francisco: Little Italy Food Tours
The City by the Bay! San Francisco is an old city and is VERY diverse. Neighborhoods were created during the height of US and west coast immigration: like Chinatown and Little Italy. Because of this, the San Francisco food culture is delicious! You can walk from one neighborhood to the next and pretty much get a sample of cuisine from each continent in the world!
We think Little Italy will be popular with your kiddos; what kid doesn't love spaghetti and gelato?! And we've found the perfect food tour of Little Italy so you can get the full experience. Check out SF Food Tours North Beach/Little Italy Food Tour. This tour is a short 7-8 blocks so your big kids can easily walk it or you can pack baby in the front carrier. You'll snack on cannoli, focaccia sandwiches, pizza, and Italian chocolates. Are you hungry yet?
---
Portland: The Arts District Food Tour
Foodies unite in Portland. The city is known for being a foodie town; full of creative, unique, yummy, and fun food destinations. While many of the food tours we found should be saved for a date night as they are "adult only", we did find one that you and your kiddos can enjoy together! The Arts District Food Tour by Eat Adventures is open to all ages and not only will you be eating your way through the Arts District of Portland, you'll also be experiencing local artisans, performers, and crafts on the tour as well!
BONUS: if you happen to go on the last Thursday of the month, you'll get to experience the monthly street festival too! This tour is about 3 hours long, so make sure your kiddos are up for it. Maybe plan it during your infant or baby's nap time? You can enjoy food and drinks while baby snoozes in the stroller!
---
Dallas by Chocolate Tour
You're on vacation, so we give you permission to have dessert before dinner! Check out this tour in Dallas, TX: The Dallas by Chocolate Tour…umm, a tour completely dedicated to chocolate? Yes please! Kids under 4 are free if they sit on your lap (the tour can accommodate car seats if you purchase a ticket). This tour company does offer some "adults only" tours so make sure you're booking the kid-friendly option. The entire family will enjoy tasting chocolates and sweets from Dallas' top chocolatiers!
---
Related Articles:
---
Minneapolis Riverwalk Tour
The Twin Cities area boasts a wide variety of foods. From Asian cuisines to Eastern European flavors, and of course, cheese curds! We think the Minneapolis Riverwalk Tour by Taste Twin Cities is perfect for the entire family. You'll be visiting some trendy neighborhoods in Northeast Minneapolis while taking in the gorgeous views of St. Anthony Falls. This tour is stroller friendly and lasts about 3 hours. And guess what? You'll get to try dessert from a local chef nominated for the James Beard award and featured on many baking TV shows. If you know who it is, report back to us who the famous chef is in the comments below!
---
Louisville: Food Guide Food Tours
Louisville, Kentucky is one of those gems of a city that has a great combination of mid-western hospitality and big city vibes. They've also got some great, home-made food. We found this tour by Food Guide Food Tours and it's sure to be a crowd pleaser. While exploring the Nulu neighborhood of Louisville, you'll get to try some BBQ, grab one of Louisville's famous and favorite chocolate chip cookies (your kids will thank you), and stop by Muth's Candy Store which has been around since 1921! The tour runs rain or shine, so be prepared for weather. And don't forget; make sure to pronounce Louisville the correct way. We'll give you a hint: it's "Loo-a-vul", not "Loo-ee-ville"
---
Orlando: Celebrate Food Tours
Our list would not be complete without Orlando's food tour of the Walt Disney inspired town of Celebration. A food tour in a Walt Disney town? Sounds pretty family-friendly to us! Celebrate Food Tours will take you through the town of Celebration where you'll get 9 tastings from 5 different eateries. Not only will you be enjoying local food and drinks, but you'll also learn all about the area. So Disney fans, get ready to learn some awesome fun facts about Walt himself! Plan ahead and schedule this tour into your itinerary as it only runs on Saturdays. Celebration is easy to get to from Disneyworld. If you're staying at the resort, you'll be able to get there no problem.
---
Tours Worth Tasting in New York
It should be no surprise that we found a lot of family-friendly food tours in New York. It is after all THE melting pot of the US and is known for it's incredibly diverse population, which means if you want it, New York has it. There are a few food tours we definitely want to highlight because we think they are must tastes.
First, check out A Slice of Brooklyn. They have several tours that are definitely kid-friendly; there's even a Christmas Lights Tour! These tours aren't walking tours, so no need to worry about kiddos getting tired. All of their tours depart from Manhattan so they are convenient too!
Next up is Foods of NY Tours. They have several tours that are kid friendly: the Original Greenwich Village, Chelsea Market/Highline, Heart & Soul of Greenwich Village Tours and Nolita & Little Italy's Secrets Tours. Honestly, there are so many options and their tours run so often that you could do one every day of your trip! Their tours are all under 1 mile (except the Brooklyn tour which is by bus), and they promise you'll leave with a "full belly".
Rounding out our New York list is Sugartooth Tours. We think their name says it all! They specialize in New York sweets and treats. We aren't responsible for the sugar high your kids will have at the end of the tour!
---
Boston: Unofficial Ice Cream Tour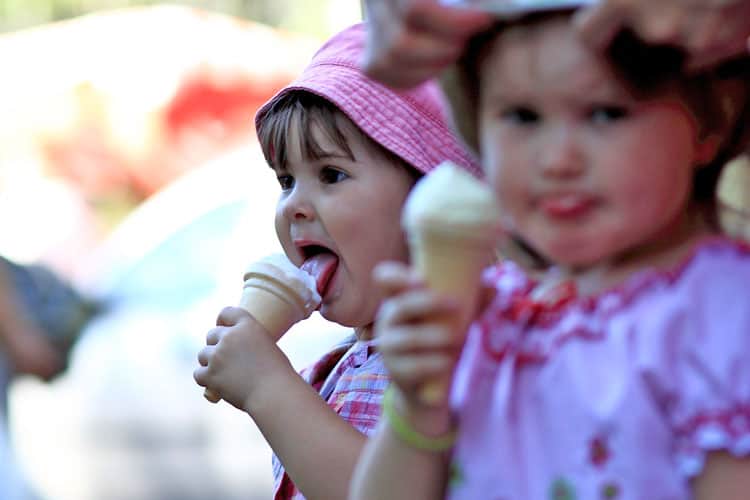 Last but not least is Boston! We've actually mentioned this "unofficial" tour before because it's pretty popular, so we thought we'd include it again! Did you know that Boston has A TON of ice cream shops? Visitors and locals alike love to do an "unofficial" ice cream tour throughout the Boston area. You can visit the classics like Ben and Jerry's or check out some of the more unique spots like FoMu. No matter what, you'll be happy spending a summer day exploring Boston ice cream! PS: here's a list of 28 ice cream spots in the city.
Know of a place not listed, share it in the comments!
Kaylee Garcia is a BabyQuip IQP in Washington state, a mama to one sweet boy, a wife to an awesome husband and BabyQuip recruiter too! Kaylee and her son (he's not even two!) have completed over 13 trips via air travel (thank you, Alaska Airlines!) on over 30+ airplane rides! They love sharing travel tips with other families since they've learned a lot in the last 2 years. Kaylee enjoys spending time with family, researching baby gear, and exploring the Pacific Northwest.